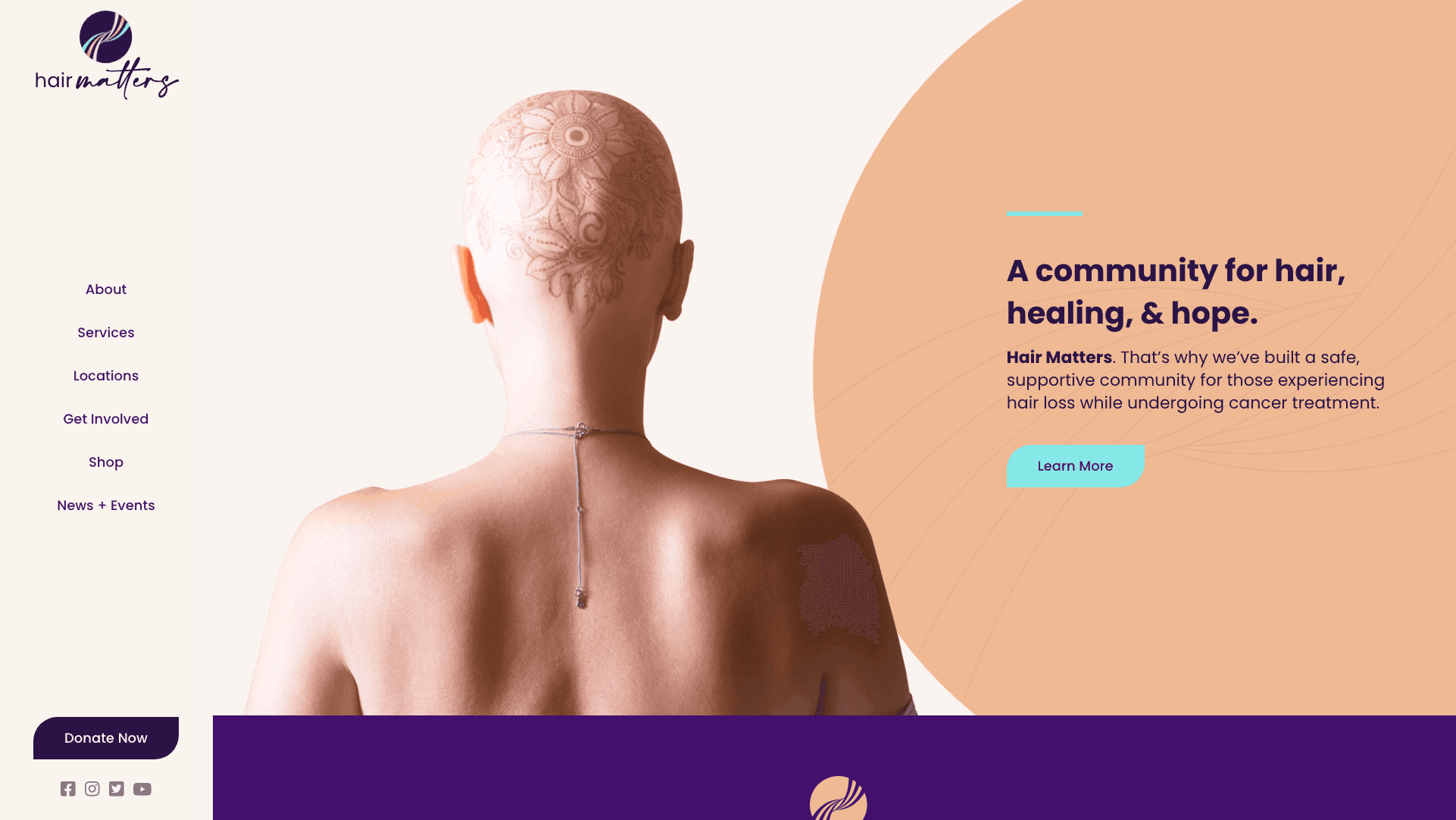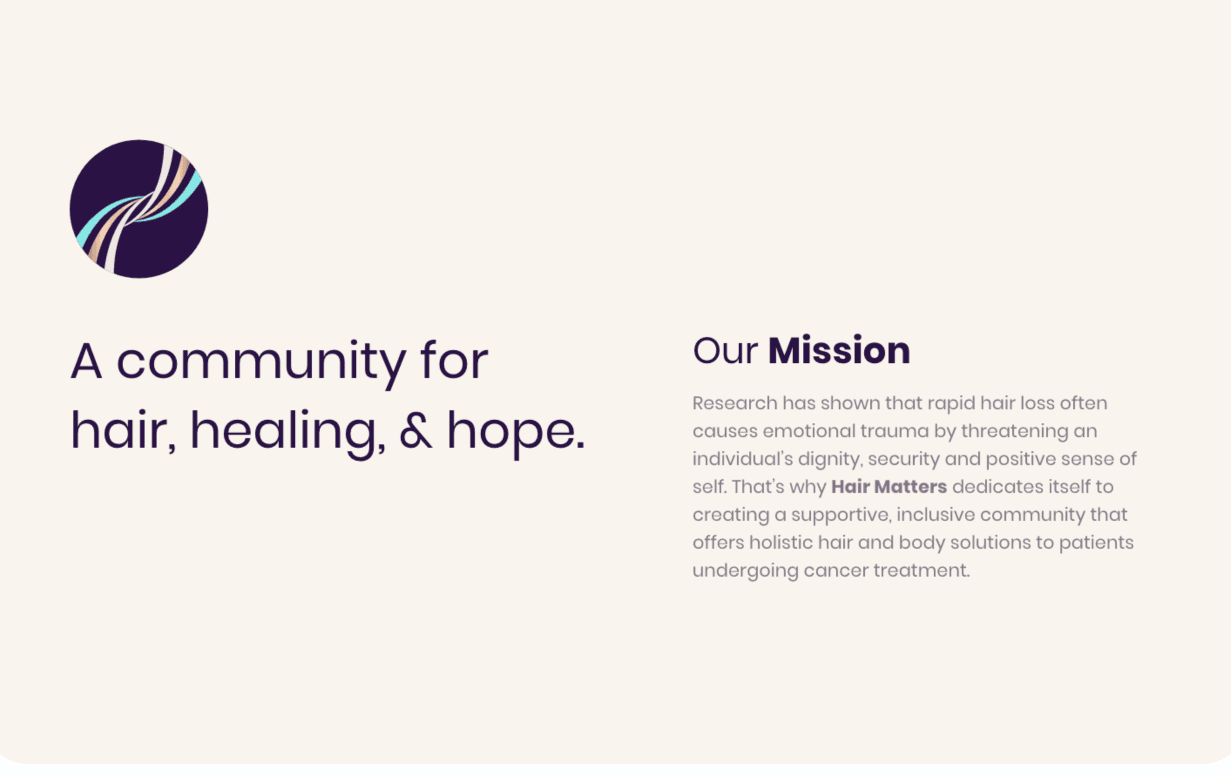 Sending the Right Message
A foundational part of an organization's brand is its messaging. Our copywriter did an exercise with the client during the Discovery phase that helped us identify Hair Matters' defining features as an organization. From there, we pulled out words that encapsulated these features and played around with them until we had a tagline that struck a chord.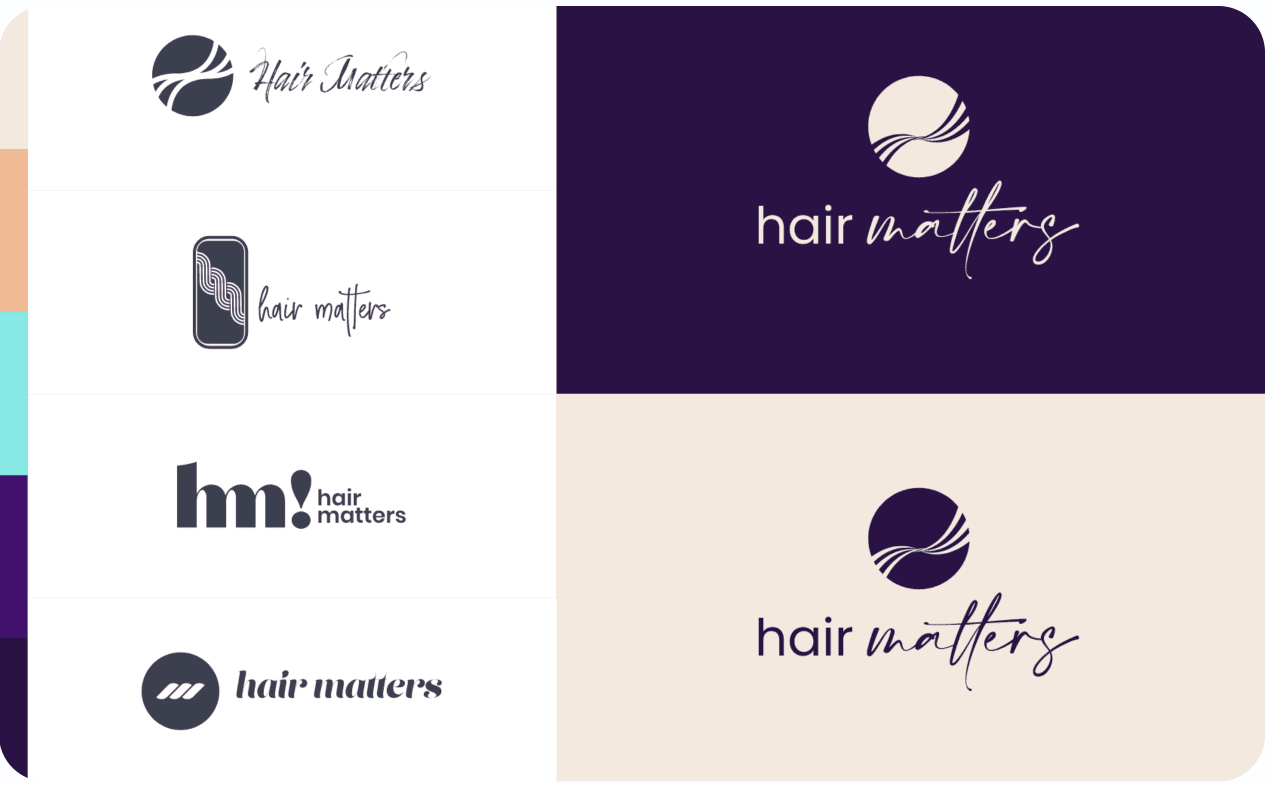 A Logo Comes to Life
Creating a logo from scratch is always an exciting process for both client and our design team. Our designers drew upon key elements of the brand, like hair, hope, and community. After presenting a variety of options, Debby picked a winner – a colorful, elegant mark that symbolized strands of hair coming together.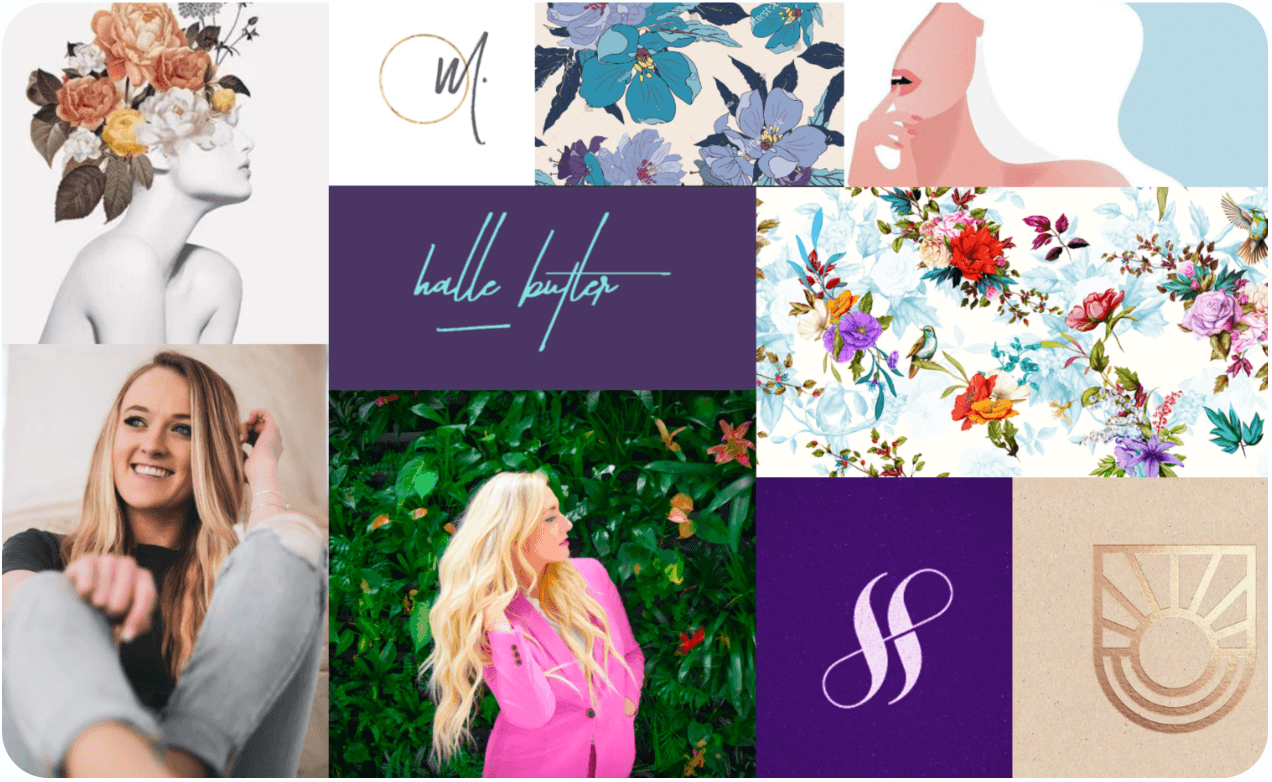 Creating the Design Landscape
Another important part of our branding process is the creating of stylescapes. By presenting the client with a curated collage of different images and elements, we're able to get a solid idea of what the client's aesthetic preferences are.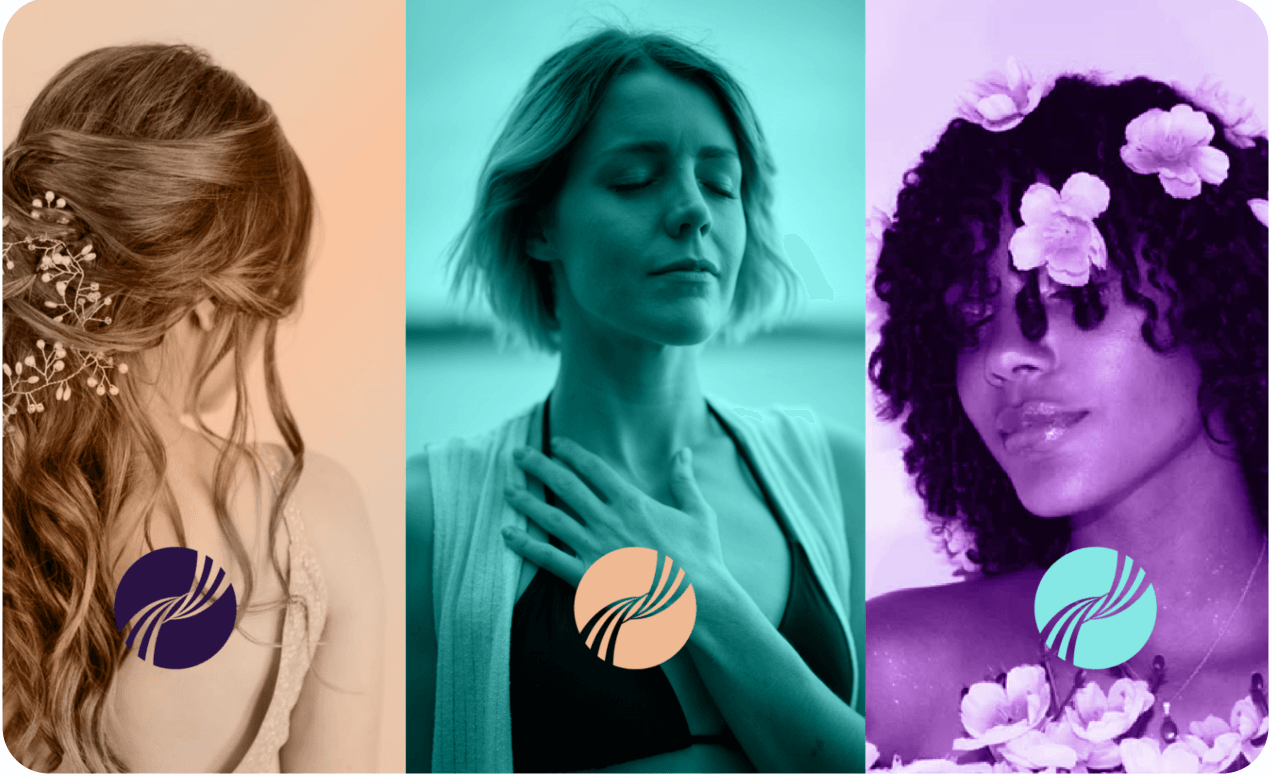 Finding Hope in Bright, Lively Colors
When looking at colors, we use color theory and psychology to create a cohesive, evocative palette. We started with purple, the color of the imagination and intuition, and turquoise, the color of communication and clarity of mind. We complemented these colors with a muted gold — the color of success, achievement, and triumph. Together these create a bright palette of calming, hope, clarity, and success.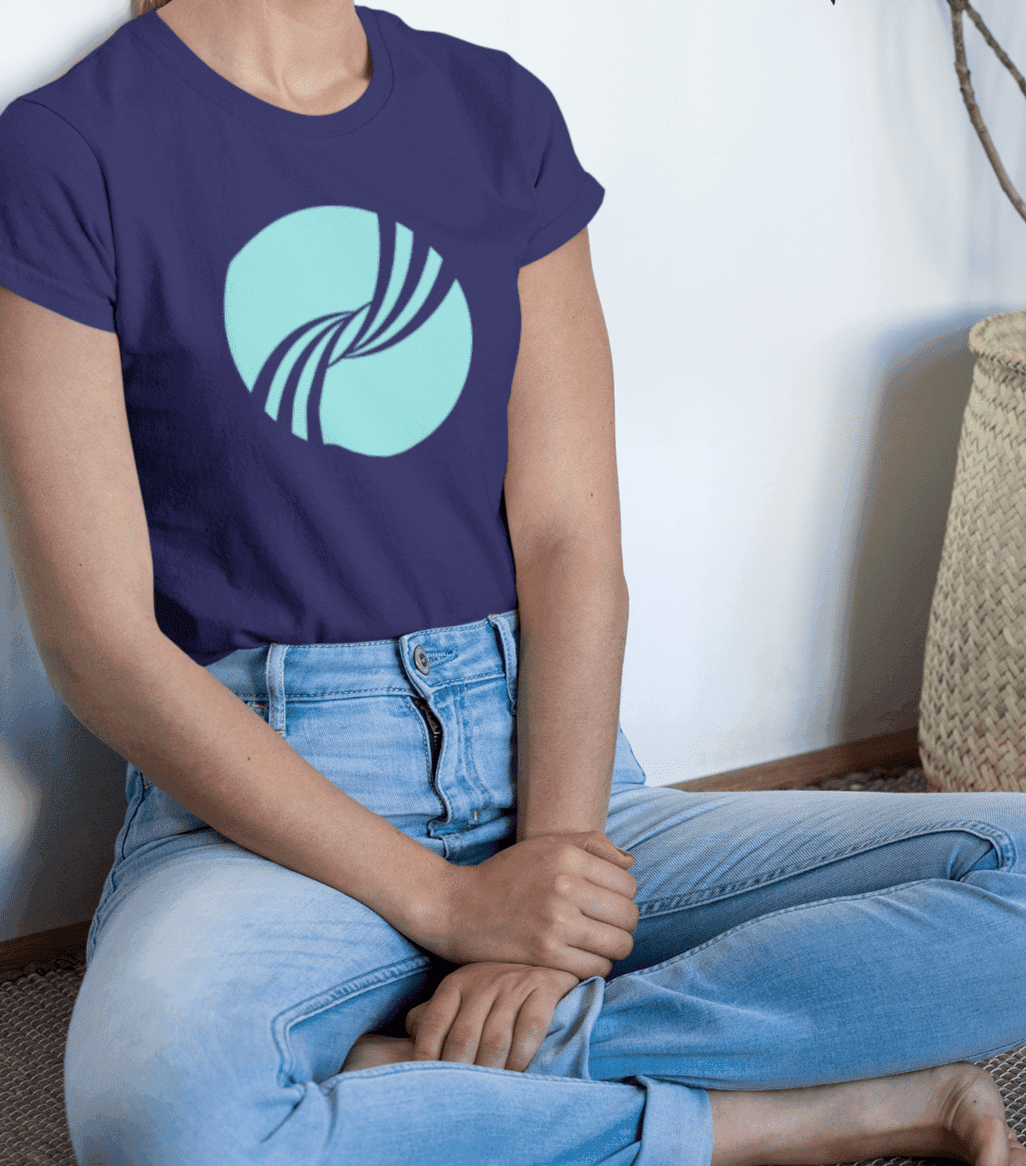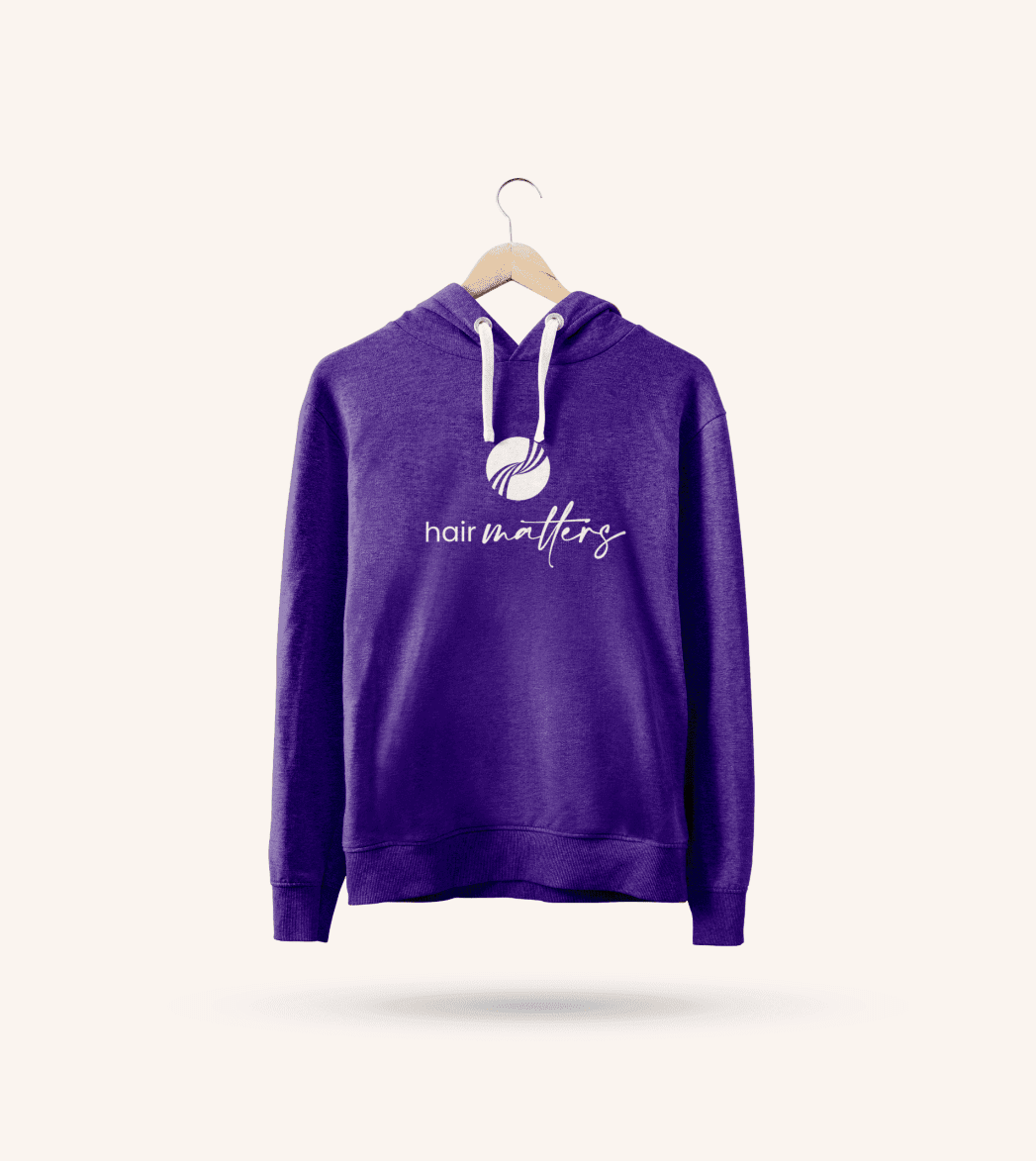 The
side•sea
team was patient, professional, and intuitive as they guided me through the complex process of rebranding and developing our website. There was creativity and compassion throughout the entire process. I felt respected and supported in bringing our core values forward while creating beautiful visuals and effective content. I now have a strong platform in which to advance this vital cause and I credit side•sea for helping me establish this firm foundation.
Debby Porter
Hair Matters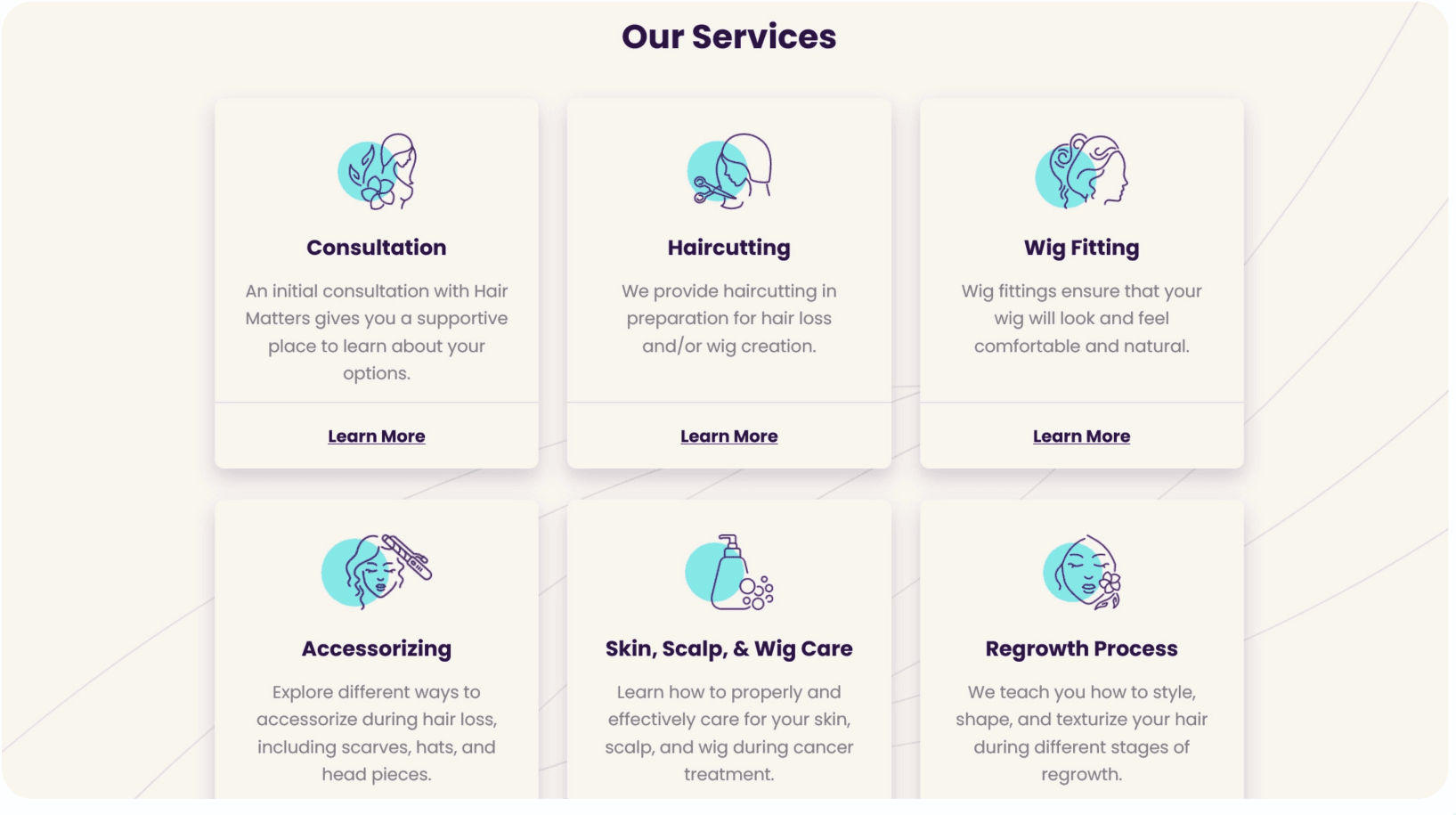 Hair Matters provides six groundbreaking services for cancer patients dealing with hair loss. In creating a grid to showcase these services, we decided to use iconography rather than imagery for each service tile. The process of treatment and hair loss is delicate and sensitive, and we felt these icons were beautiful, calming, and non-invasive.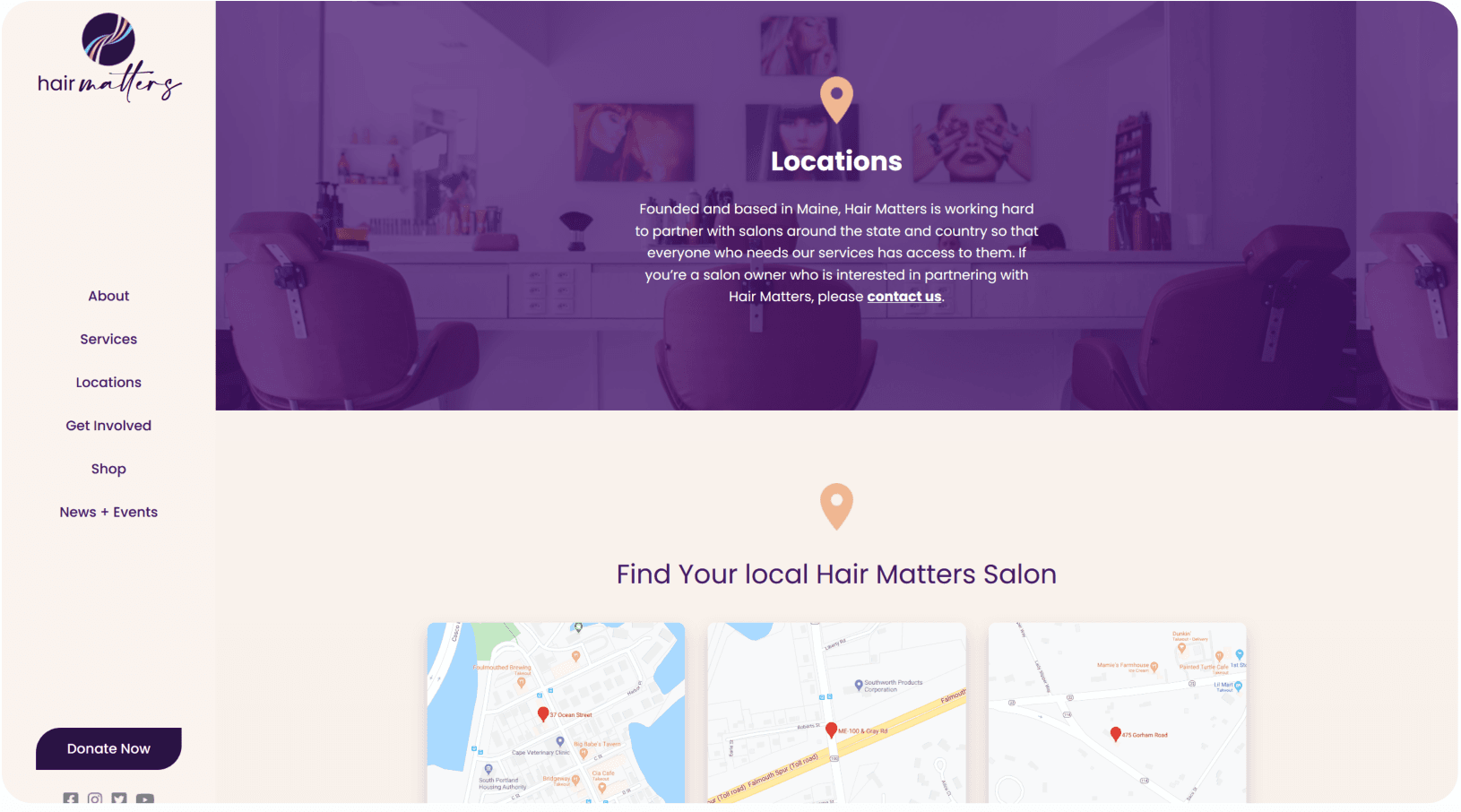 The main way Hair Matters expands its community is by training local hair stylists to perform their services, so that any salon in the country can act as a Hair Matters service provider. We created a Locations page that will grow along with the organization as they continue to partner with more salons. Hair Matters not only trains stylists in the physical services they offer, but also the emotional side of working with people undergoing cancer treatment.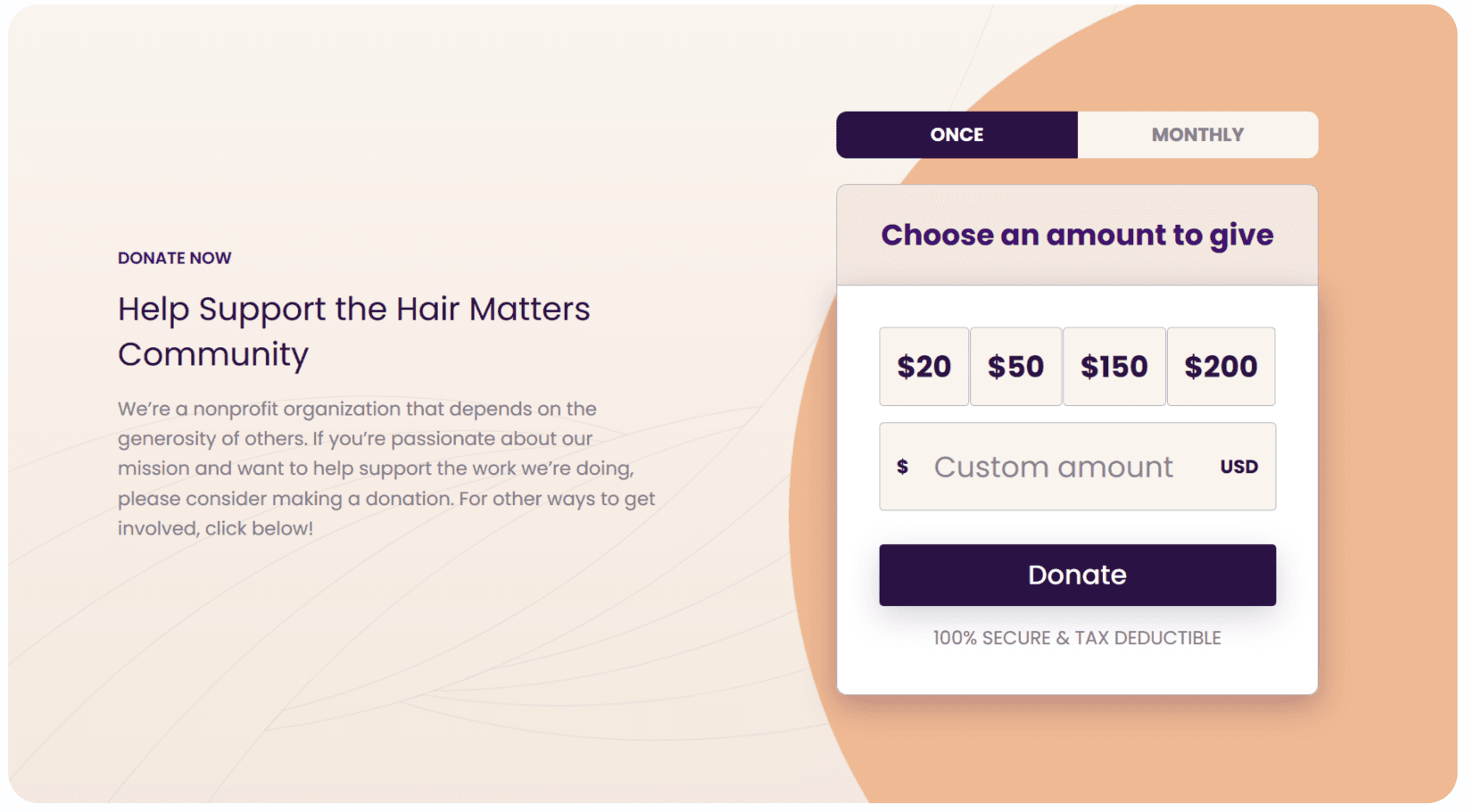 Integrate the Power of Hopsie
As a nonprofit, Hair Matters heavily relies on the generosity of their supporters. We integrated our proprietary fundraising software,
Hopsie
, onto the site to create a seamless, easy donation process. Our design team added this branded donation widget to the Get Involved page, allowing users to begin the donation process with a single click.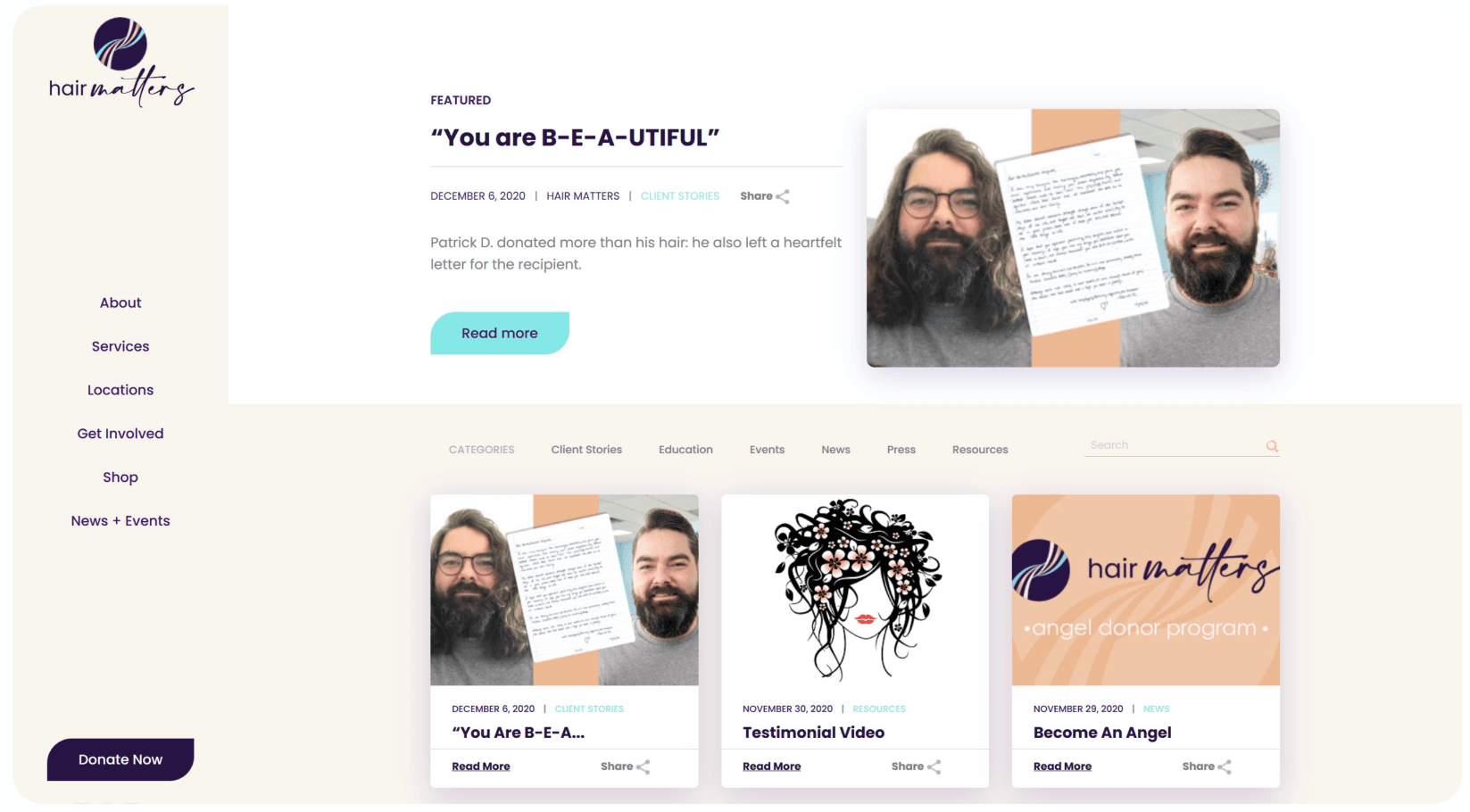 Because community is such an important aspect of Hair Matters, it was important that the website have a robust blog that could keep users up-to-date on their latest news, events, resources, and press. The blog page includes an easy-to-filter grid of posts, and we made sure to include a blog feed on each page of the website so that Hair Matters could feature particularly important posts throughout the site.
Let's work together to bring your vision to life.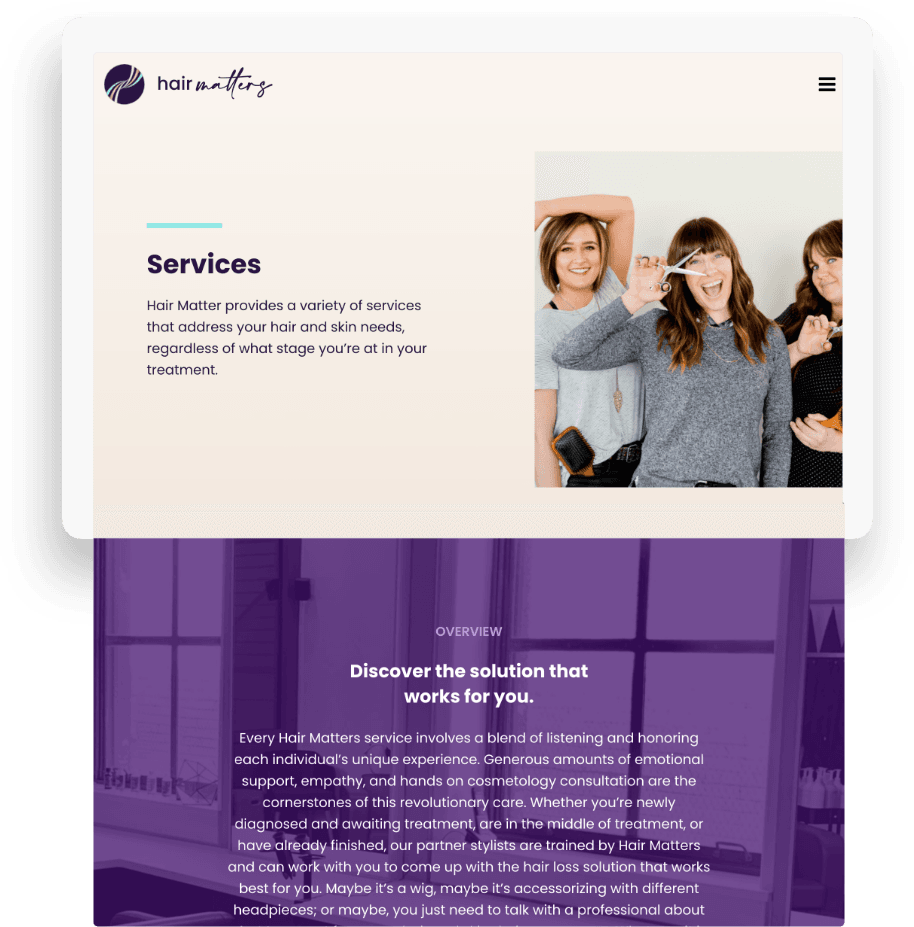 PROJECT TEAM
Orion Alden
CREATIVE DIRECTOR
Jennifer Chew
PROJECT MANAGER
Maggie Nugent
Content Director
Lena Ovcharenko
Developer
Meet Side•Sea
Building a brand from the ground up is such a satisfying creative experience. What started as a collection of words, images, and abstract concepts became a beautiful, captivating brand. Debby's passion for what she does inspired us throughout the process, and we couldn't be happier to have made her dreams come true.
Jennifer Chew
Project Manager
See how we can elevate the
voice of your brand.