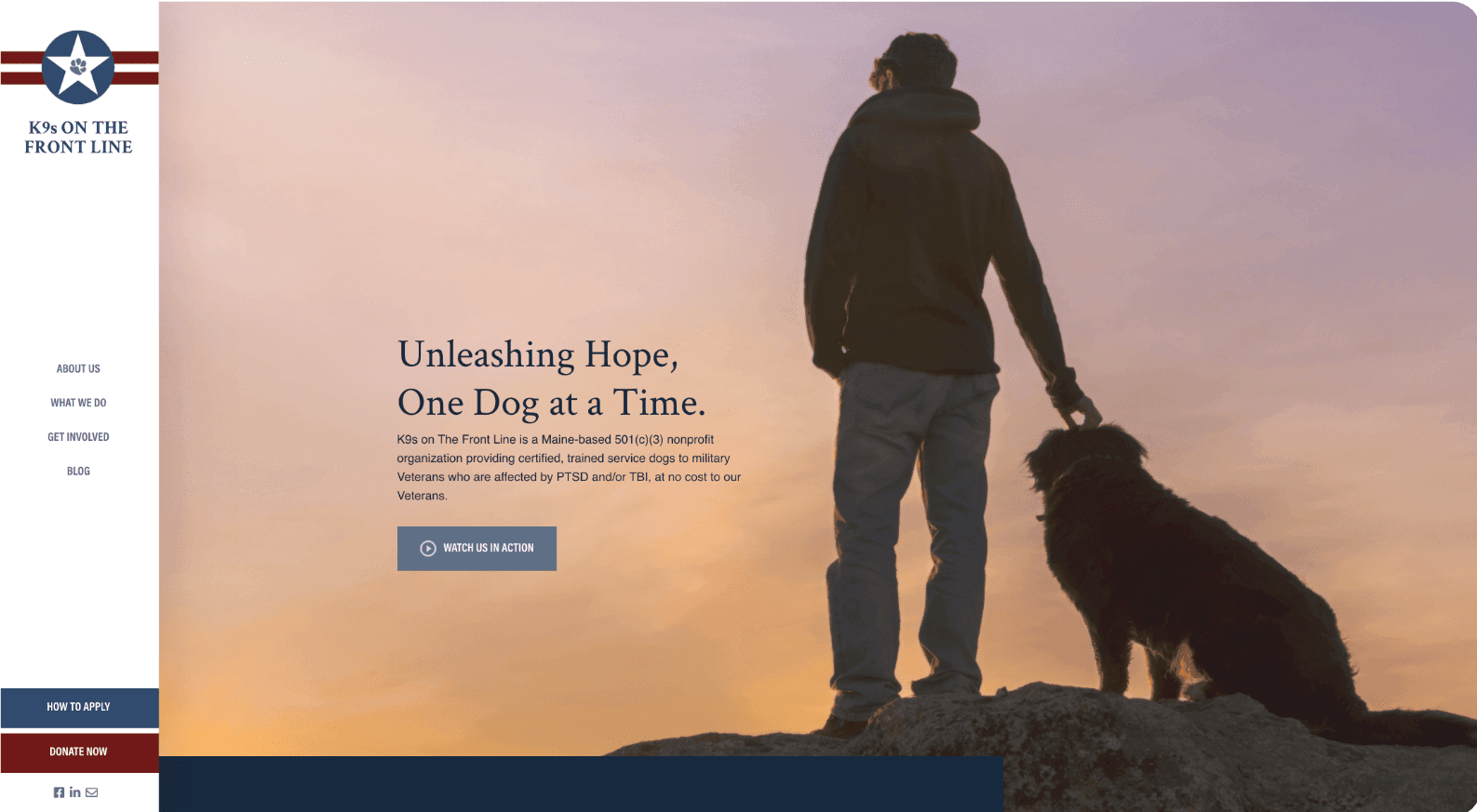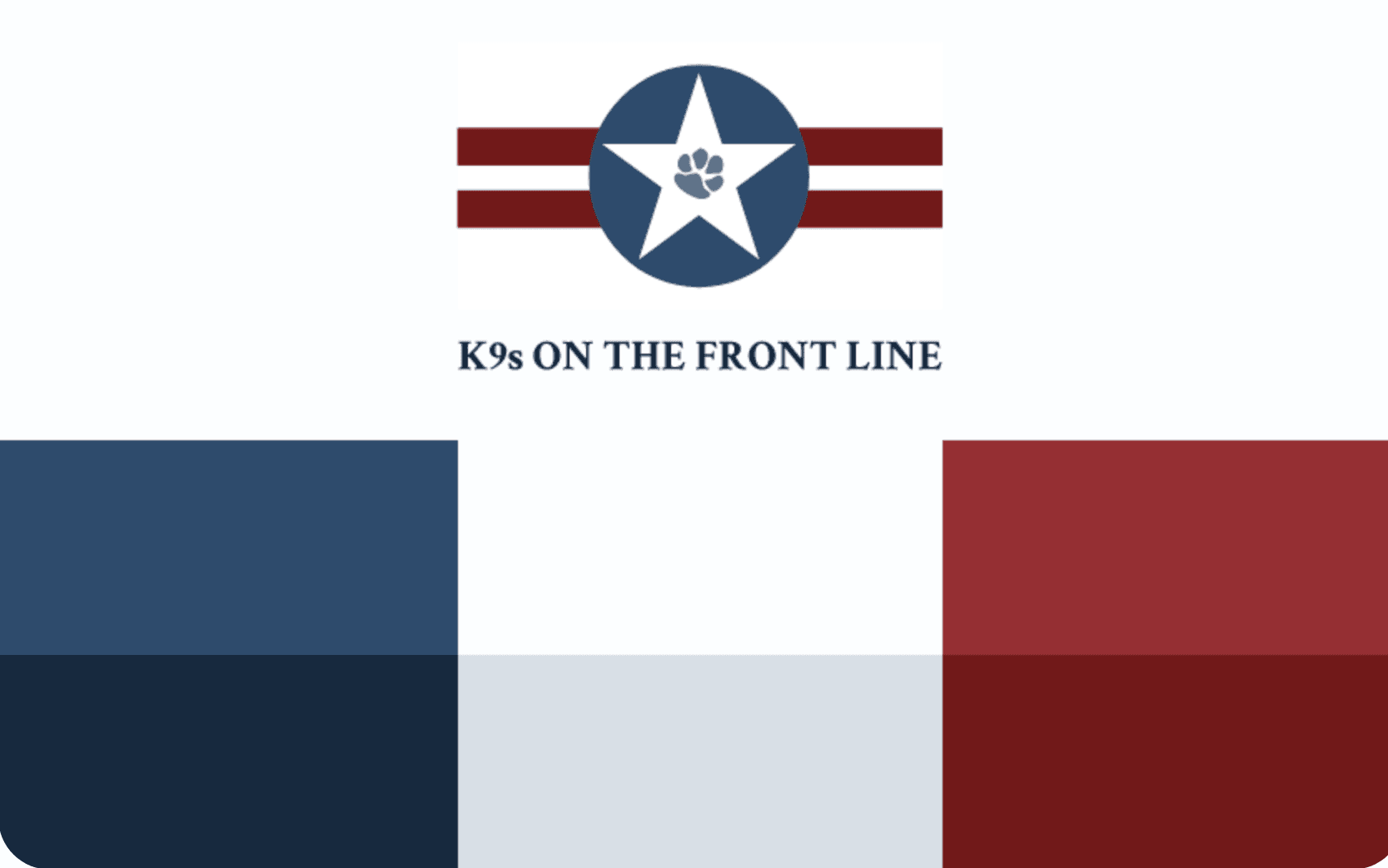 A Patriotic Palette
As with any web design project, we started by creating a brand aesthetic that would show our client as a modern and agile organization with a strong digital presence. Because the target audience for their services is Veterans, we utilized muted patriotic colors, complemented with white and grey to create a clean and balanced palette.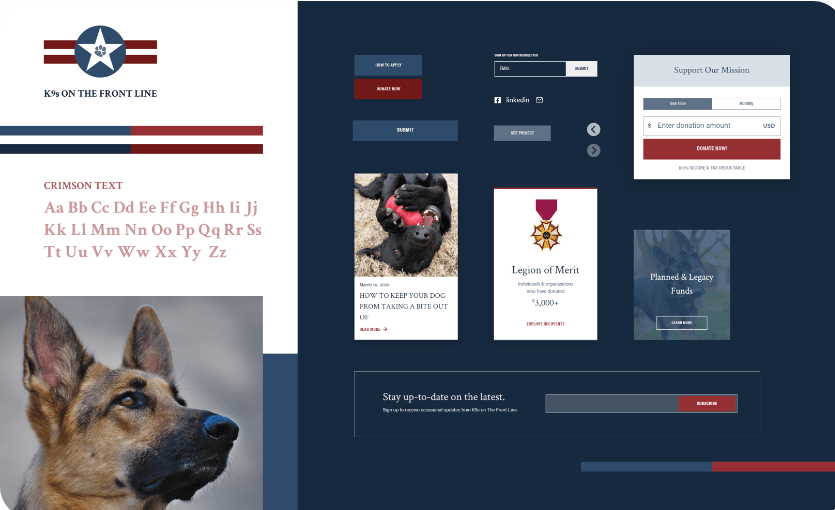 Must Love Dogs
With a strong color palette acting as our foundation, our design team continued to build out our full aesthetic. We had the distinct pleasure of sifting through hundreds of pictures of cute dogs, trying to capture the hopeful, aspirational tone of the organization through vivid and compelling imagery.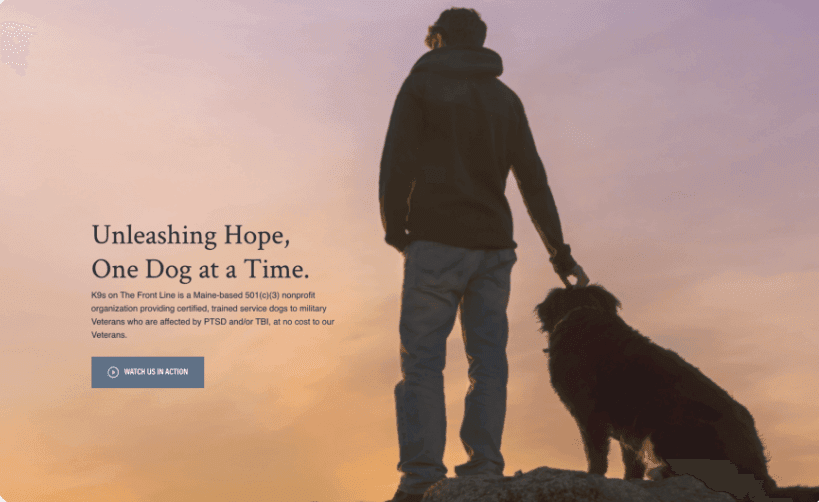 Unleashing Hope
Hagen and Linda, the president and vice president of K9s on The Frontline, loved collaborating with our creative team, giving us clear direction and helpful ideas at every step. Our favorite contribution of theirs was the tagline they pitched to us: "Unleashing Hope, One Dog at a Time."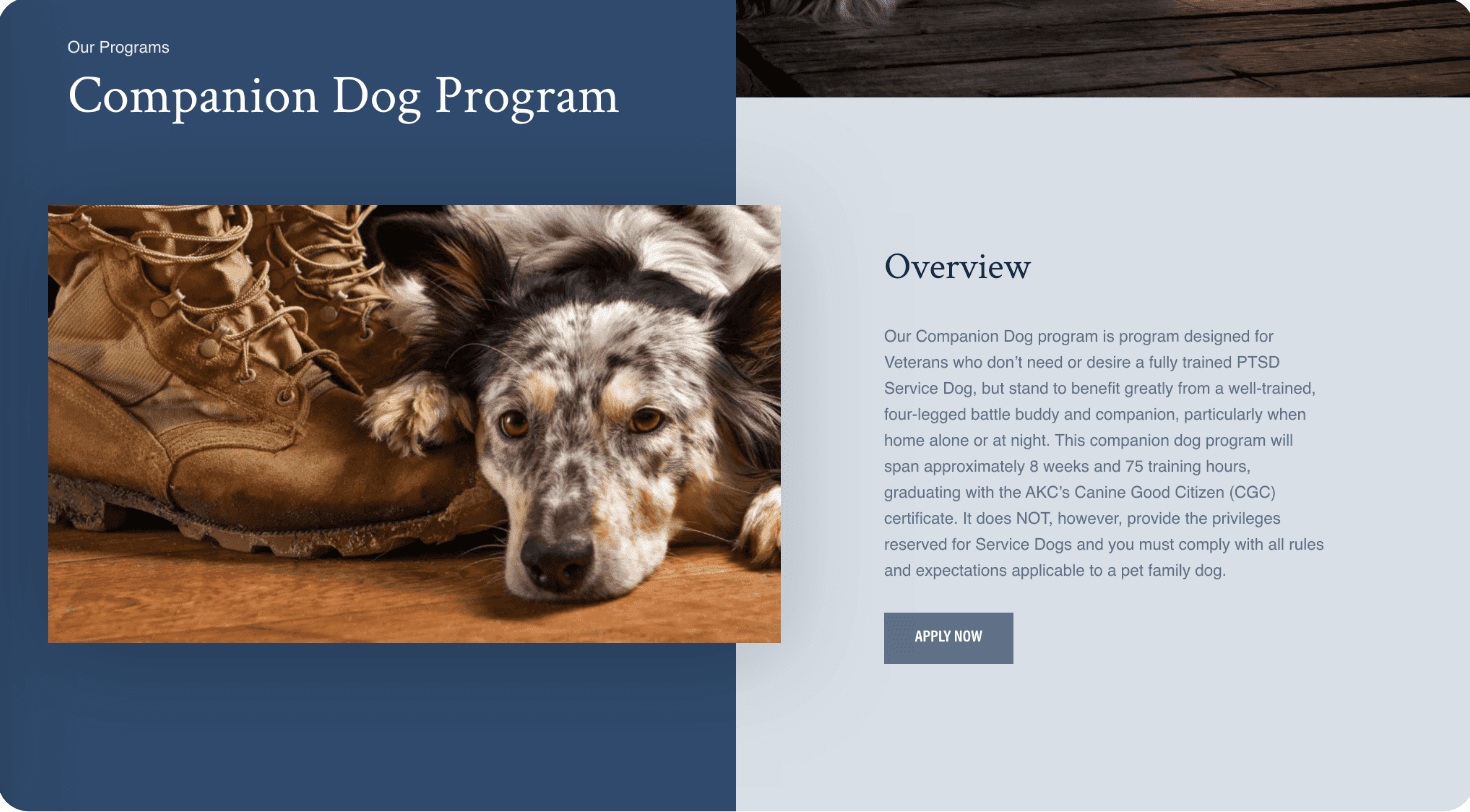 Breaking Down the Process
K9s on The Front Line offers two distinct programs: one that helps train and pair Veterans with a companion dog, and one that helps train and pair Veterans with a certified service dog. Both programs require quite a bit of commitment, so the organization wanted to be sure that applicants had a clear understanding of what was required before they started the application process. Each program had its own interior page with an overview, a step-by-step explanation of the process, FAQs, and testimonials from former program graduates.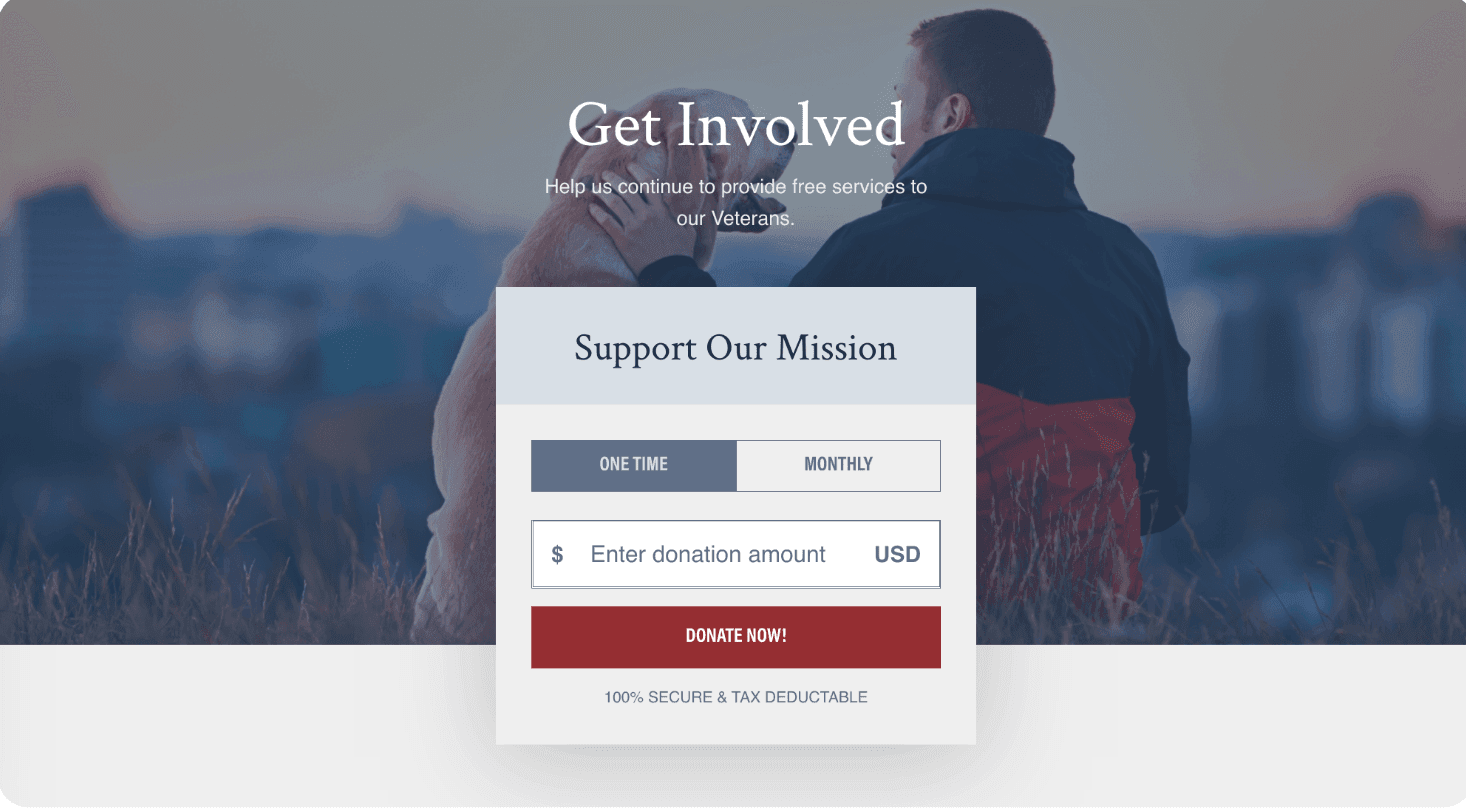 A Seamless Hopsie Integration
K9s uses our proprietary fundraising platform, Hopsie. We designed a branded Hopsie widget that integrates seamlessly with their new website. Donors can start the process directly on the website, and finish up the process on K9s' dedicated Hopsie fundraising page.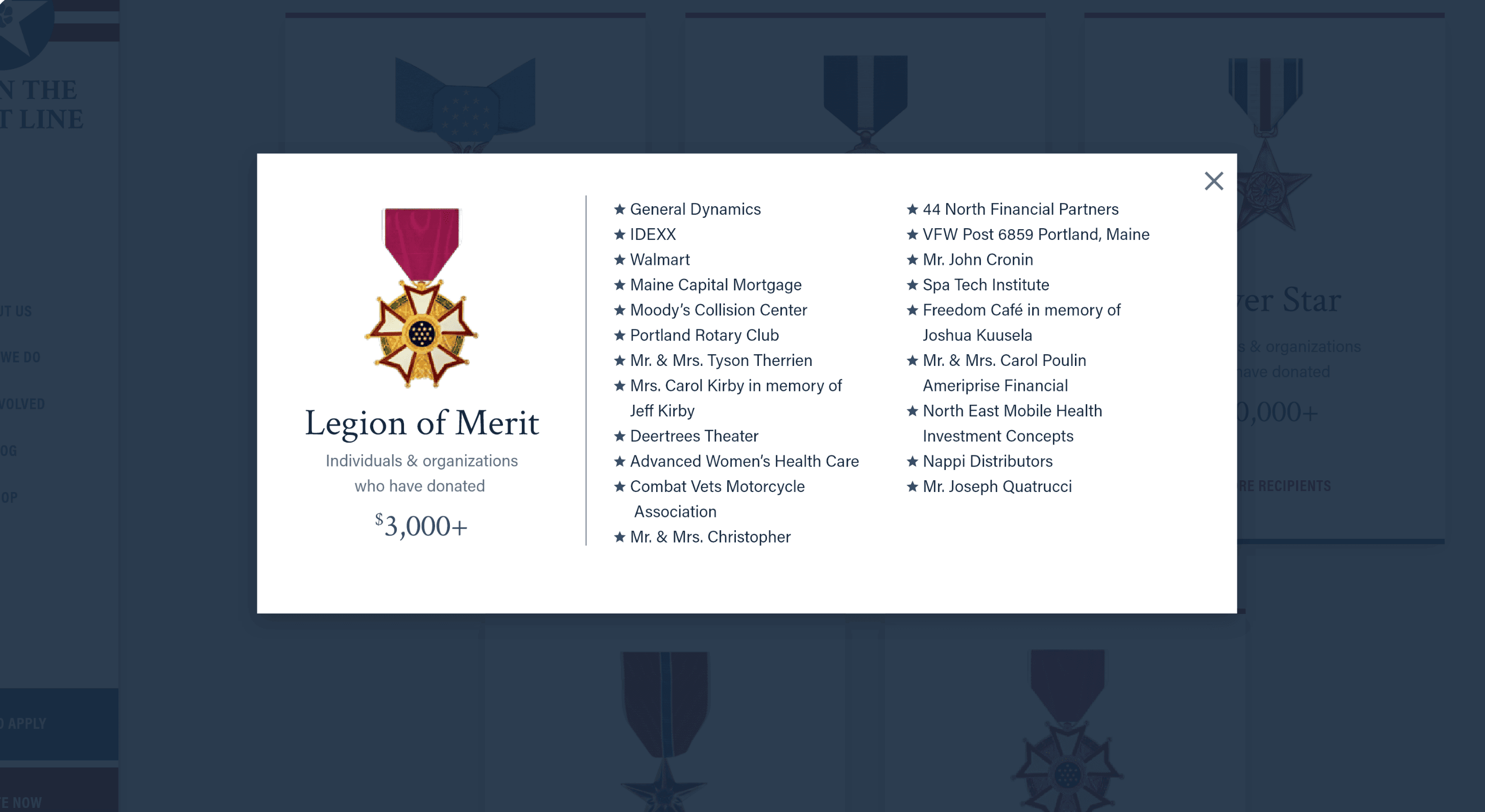 Like we mentioned above, K9s on The Front Line wanted to make a push at securing donors and partnerships. We really liked the "Donor Wall of Honor" that they had on their old website, which showcased their top donors in true military style. Honoring and recognizing people in this way makes existing donors feel appreciated and it motivates prospective donors to get involved.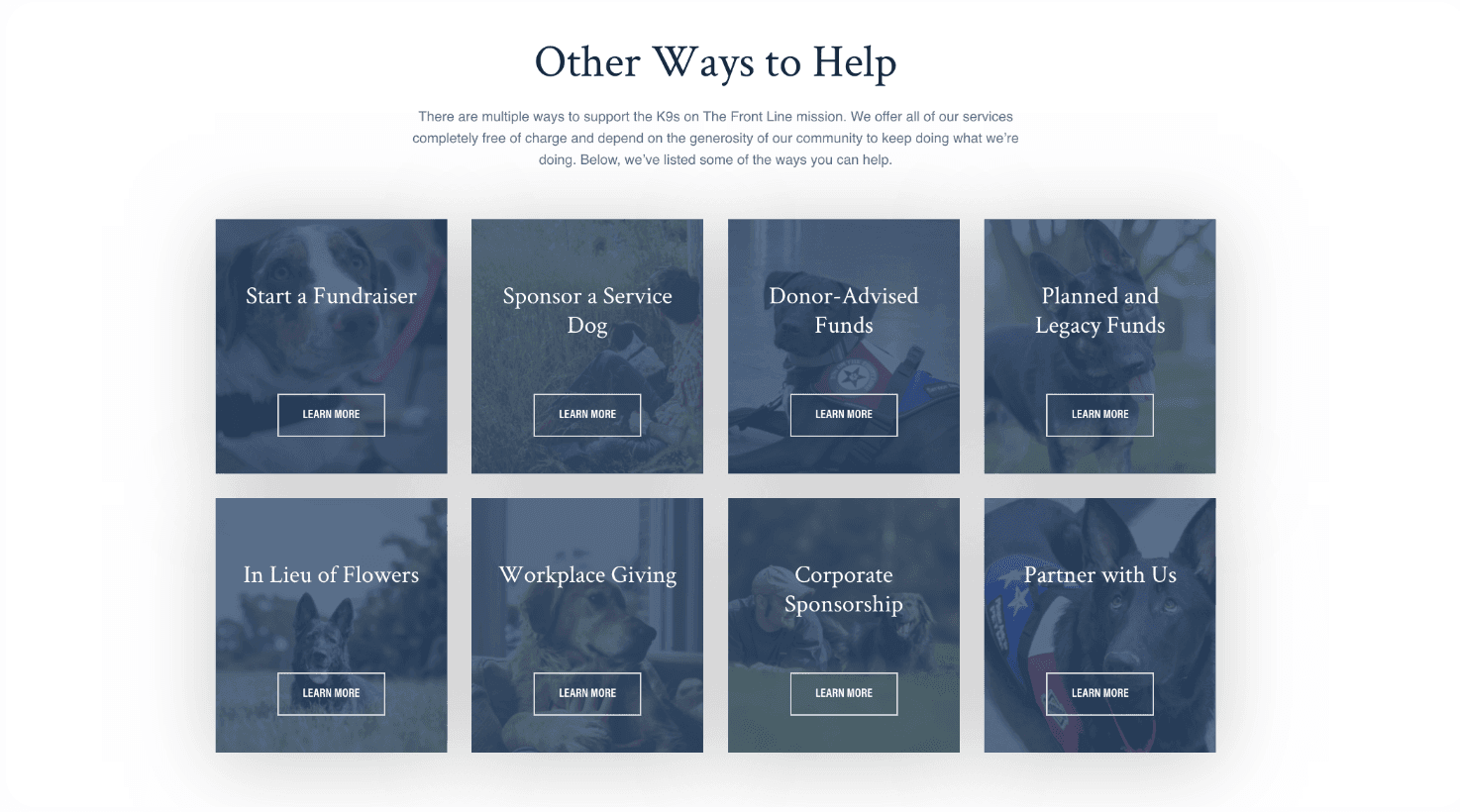 Creating the Opportunity to Give
Another strategy we used to drive donations and participation was an "Other Ways to Help" section on the Get Involved page of the website. We created an organized and interactive grid of ways people can help the organization. When a user hits "learn more" on a particular grid tile, a pop-up appears on the screen with more information and a way to get in touch with the organization. We like to employ pop-ups when there isn't enough content to warrant directing a user to a dedicated interior page.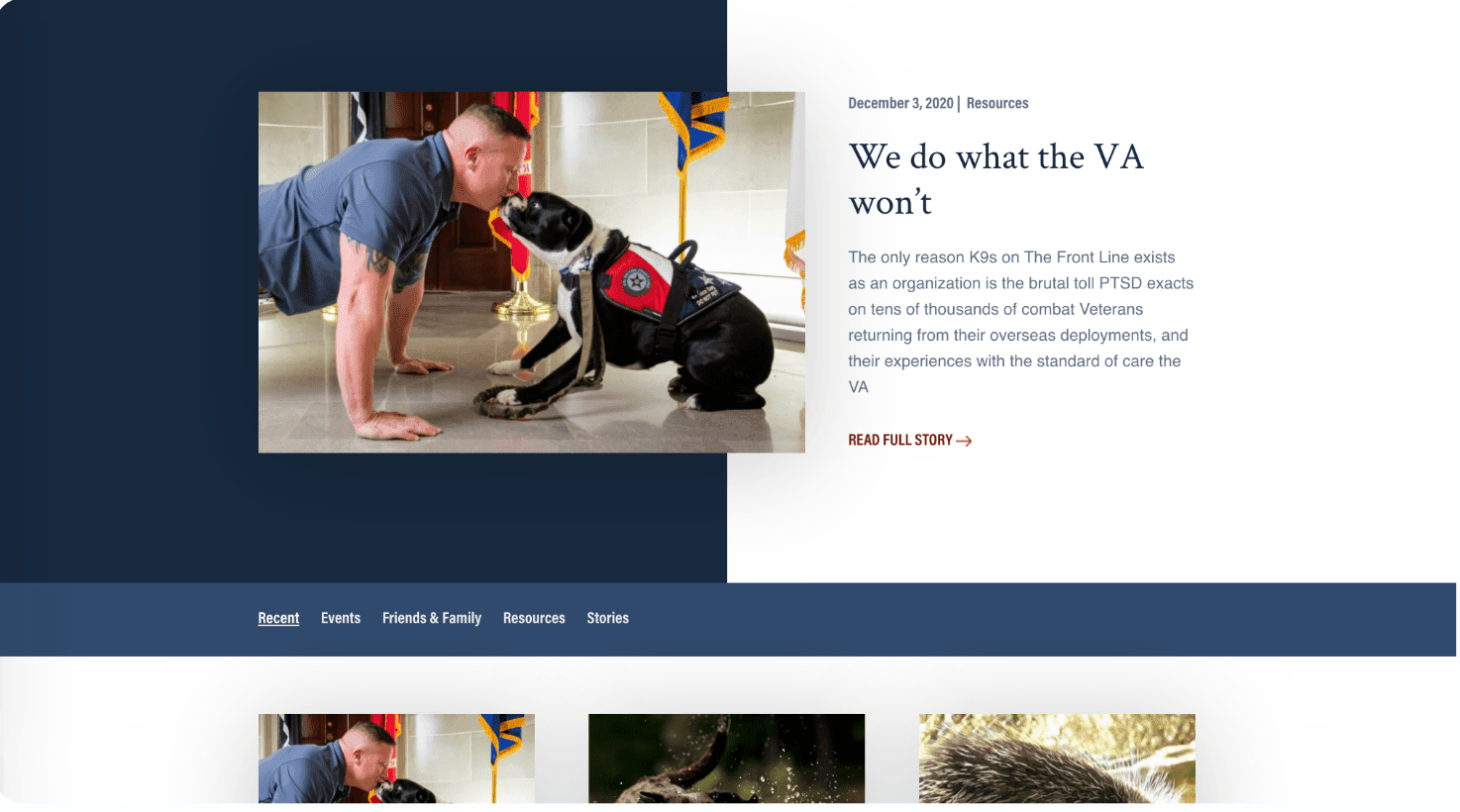 A One-Stop-Shop for Dog Lovers
While a website is designed to compel users to take certain actions—donate, apply, subscribe, etc.—it's important to create content that keeps people coming back to the site after that desired action is taken. This is where a blog becomes helpful. Hagan, the president of K9s on The Front Line, is incredibly knowledgeable about dogs and uses the site's blog as a place to offer his expertise, making it a valuable resource for their Veterans and dog-owners in general.
Let's work together to bring your vision to life.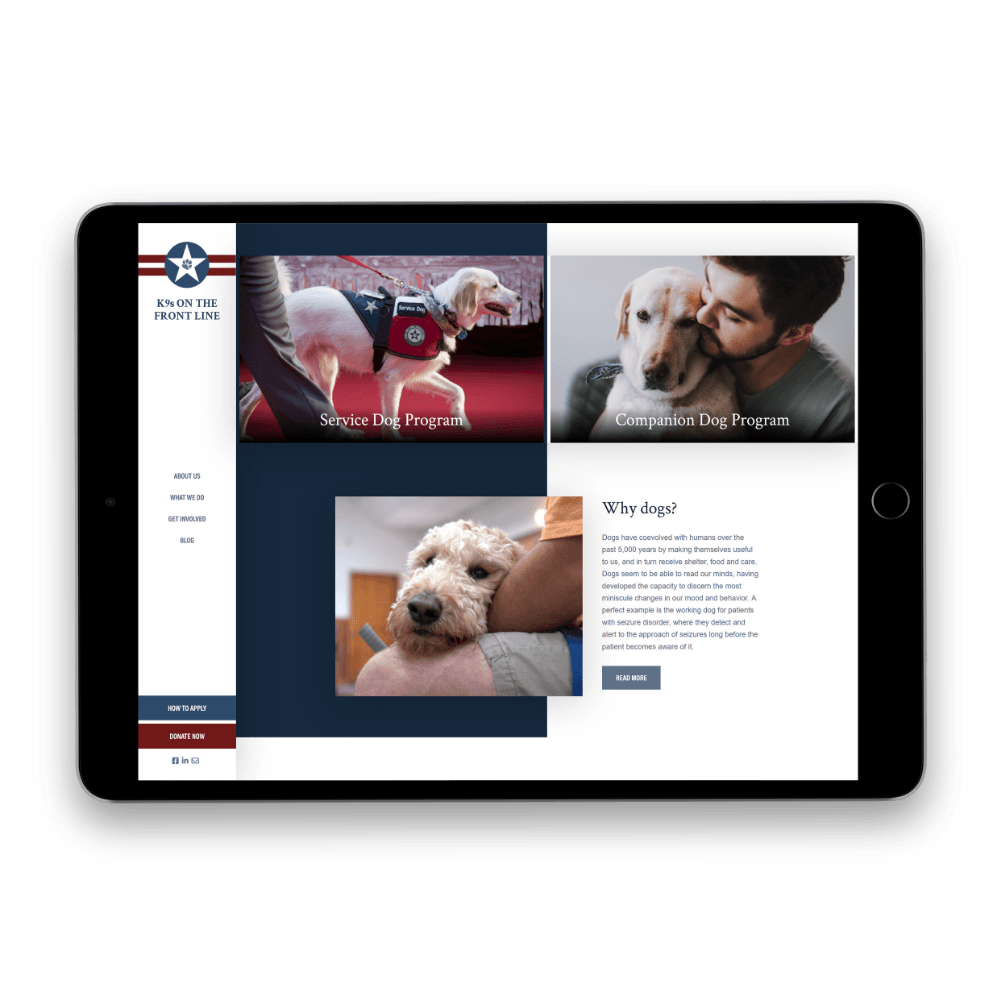 PROJECT TEAM
Orion Alden
CREATIVE DIRECTOR
Jennifer Chew
PROJECT MANAGER
Maggie Nugent
Content Director
Lena Ovcharenko
Developer
Meet Side•Sea
Working with nonprofits makes every day interesting because each nonprofit we work with has such a unique mission and vision. The K9s on The Front Line team, Hagan and Linda, were incredibly responsive and involved in each step of the design process, which always adds an element of fun. They had a clear vision of what they wanted the website to look like, and we used our design and development expertise to make it happen in a way that accomplished their aesthetic vision while maintaining the highest user experience standards. The finished product showcases an incredibly solid and recognizable brand that will make a strong impression on prospective donors and partners.
Orion Alden
CREATIVE DIRECTOR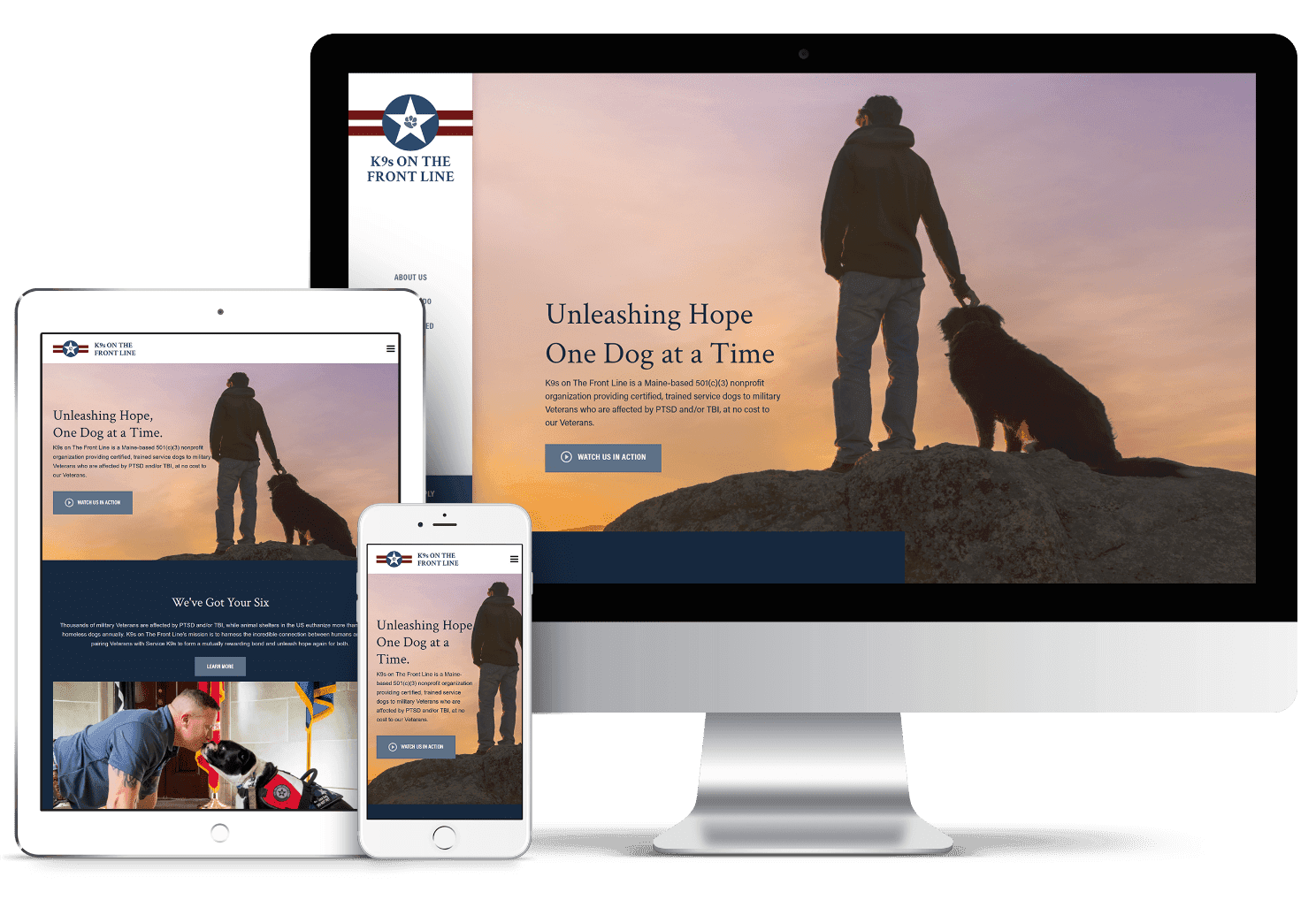 See how we can elevate the
voice of your brand.