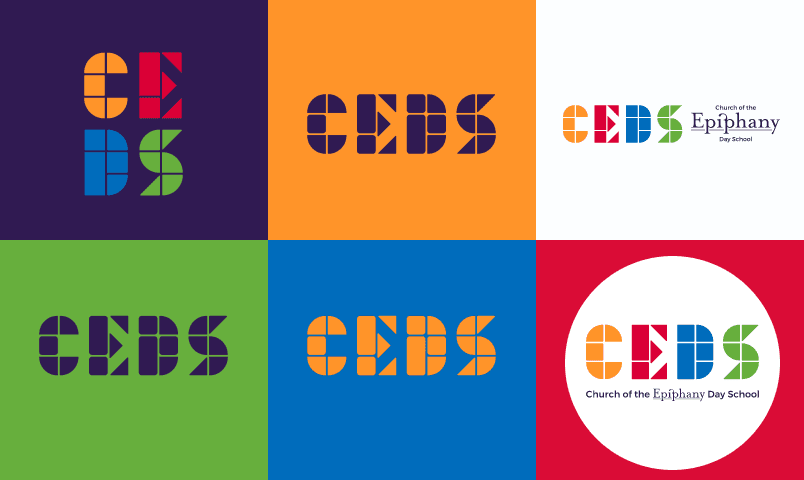 Building a Foundational Logo
We always present clients with four distinct logo options, giving them a full aesthetic breadth of directions to choose from. We were happy with the option CEDS chose – the letters CEDS created with the building block shapes typically found in classrooms. Paired with the bright color palette, the logo is both educational and playful.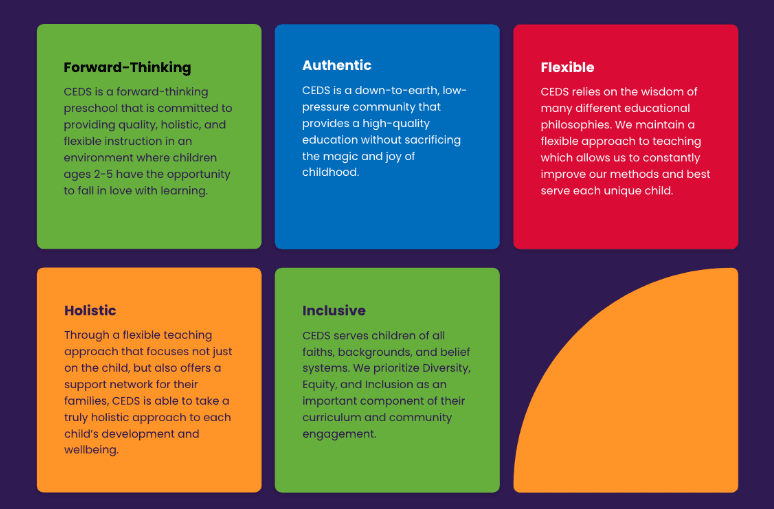 Sending the Right Message
CEDS had done a ton of work establishing a set of values and curriculum that was forward-thinking and progressive. Although they already had an established tagline, our copywriter worked with them on developing a set of Key Features – five things that truly set CEDS apart from their competitors. Establishing these pillars helps inform the messaging throughout the site.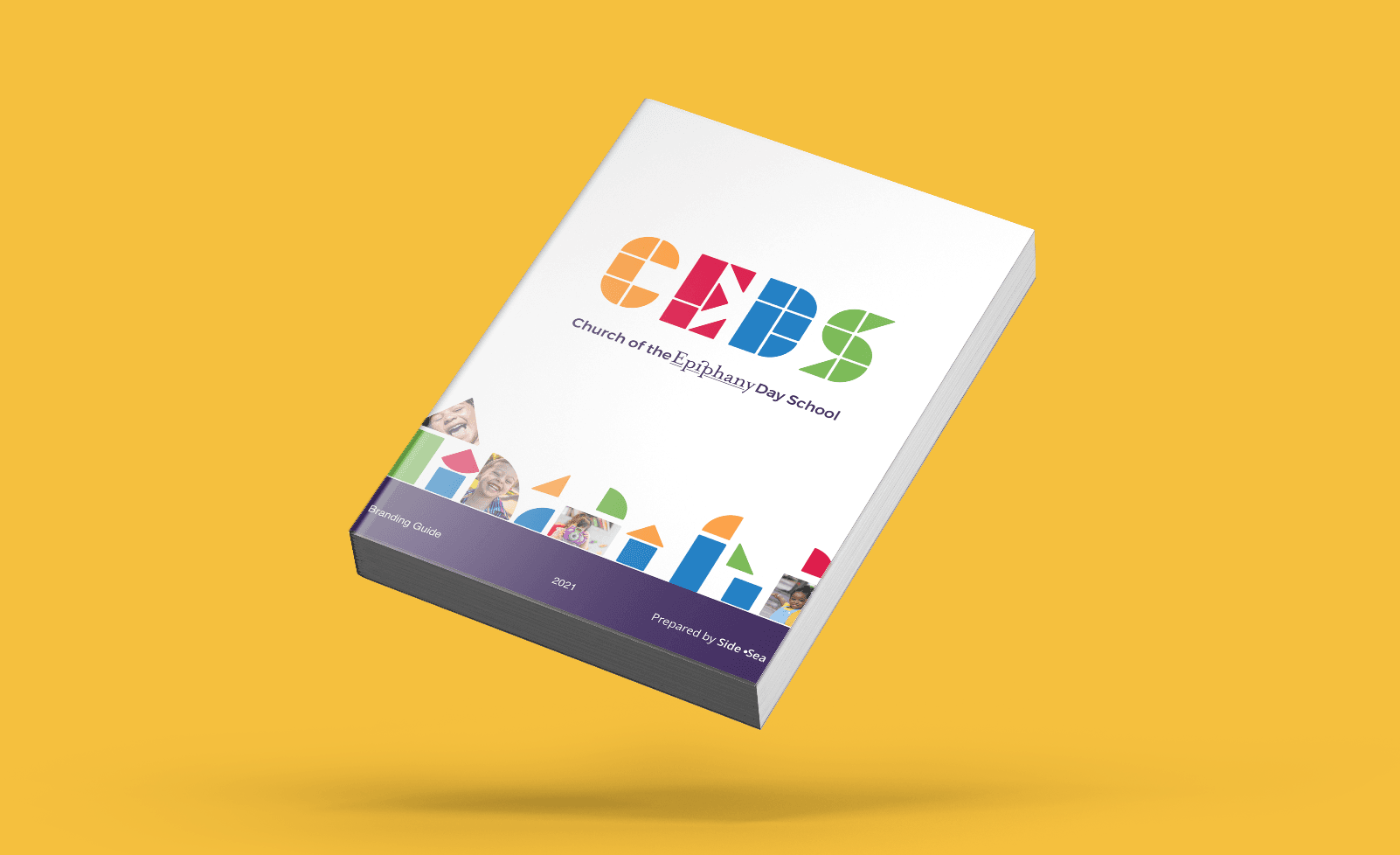 Packaging the Final Brand
At the end of the branding phase of the project, we sent CEDS their final brand guide – a 14 page document that acts as a reference for all things branding. It holds their color palette, logos for several different use cases, typography, messaging, and more.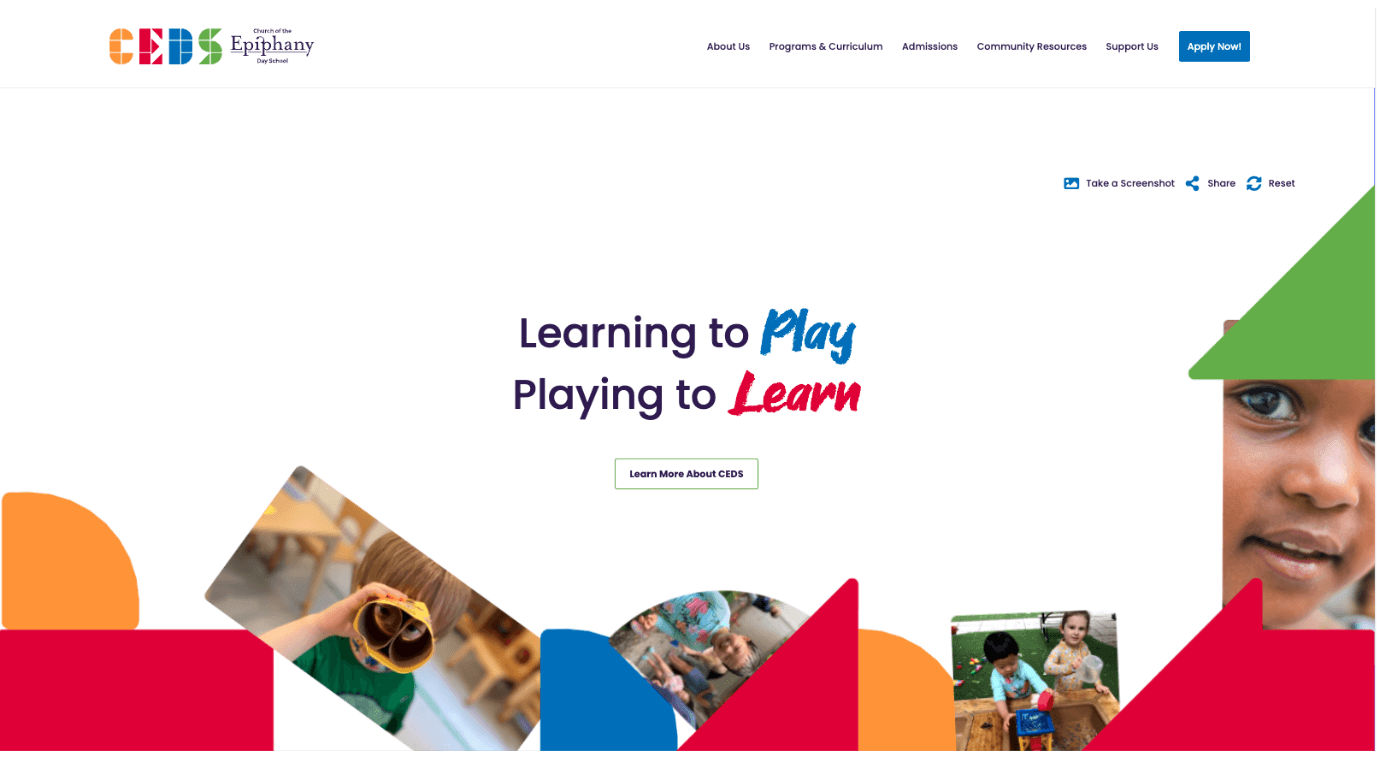 Once we were finished with branding, we had a strong foundation to begin building the new CEDS website. We put all their new elements at play in their hero banner, in which animated building blocks fall from the top of the screen. The blocks continue to tumble around as users hover over them with their mouse, creating a playful first impression.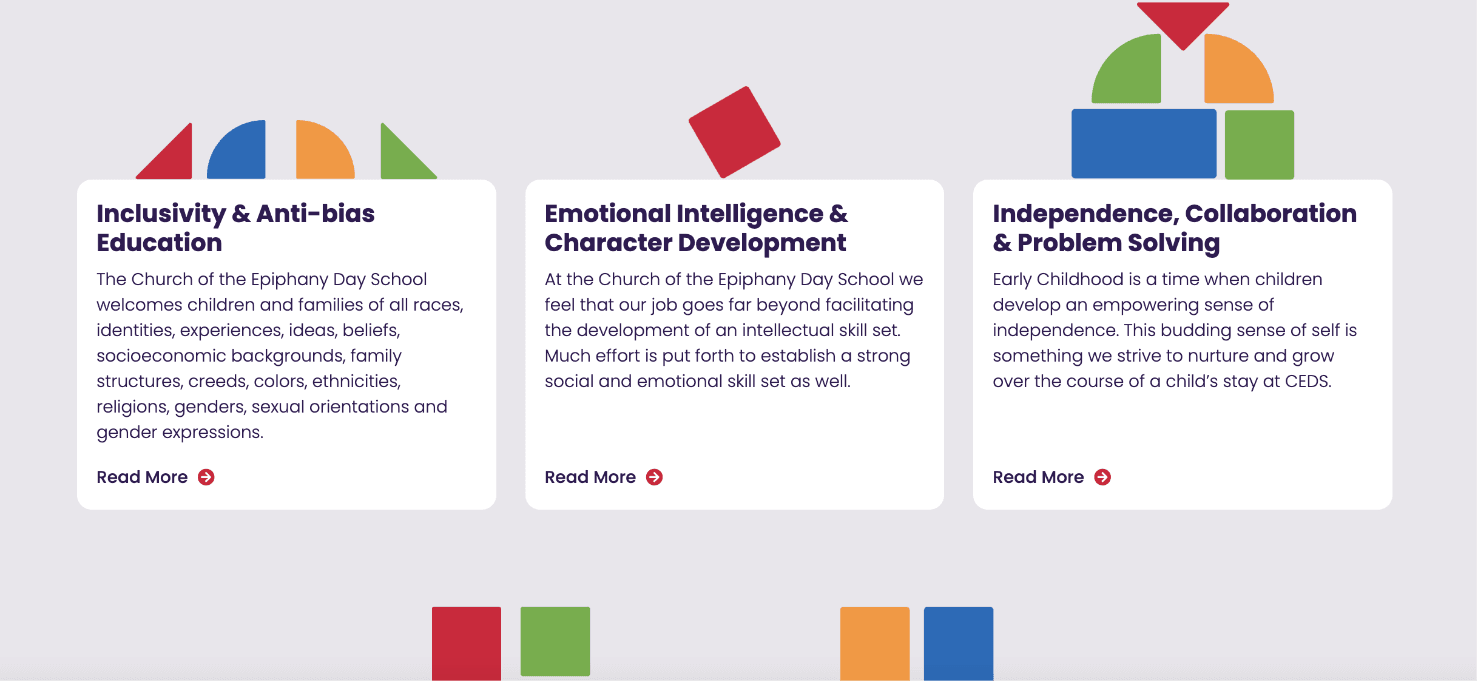 Easy to Read and Informative
CEDS wanted to have a highly informative website that could give prospective parents all the information they needed when trying to decide if CEDS was the right school for them. This meant the site needed to house a lot of content in a clean, easy to navigate way. We broke up long pages of content into more digestible, interactive chunks, with "read more" buttons that allowed users to opt into more information.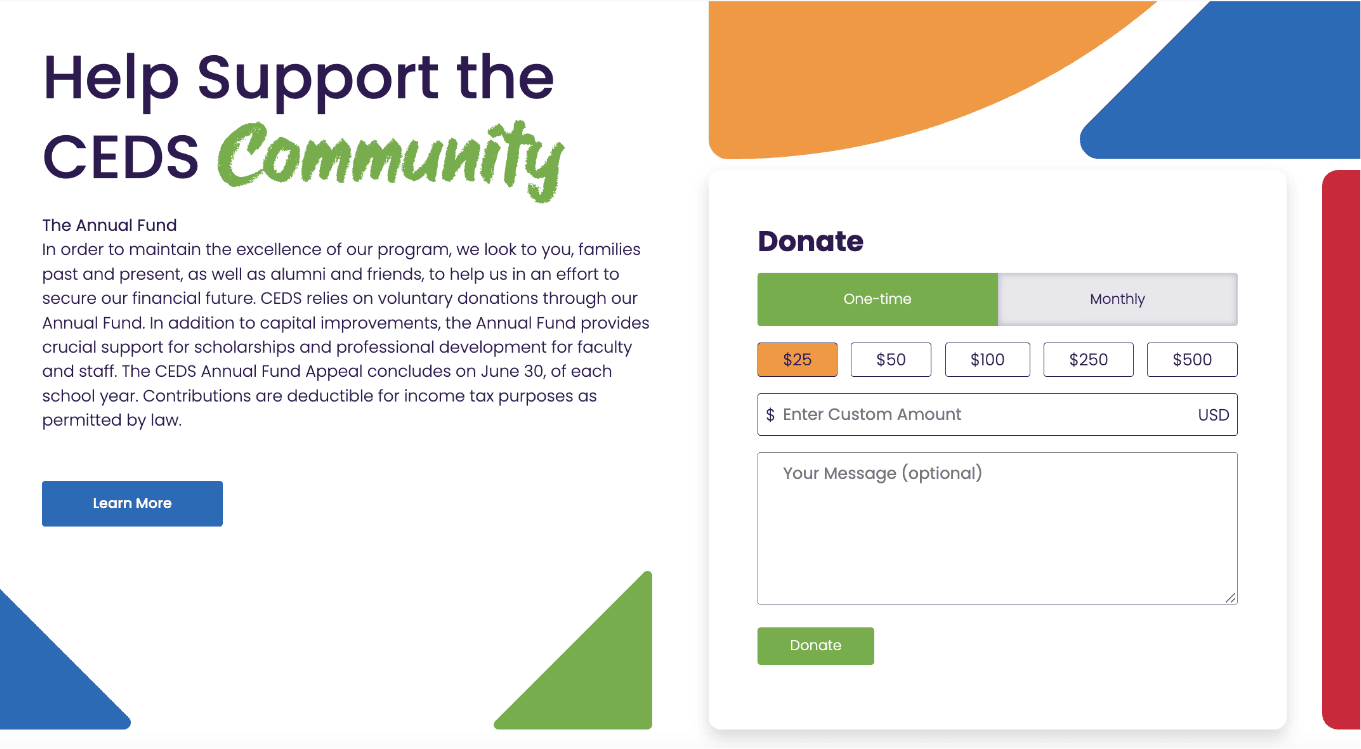 A Branded Donation Process
Because CEDS partially relies on donations, we integrated a Hopsie donation form onto their Support Us page. The form is branded in CEDS colors and has inputs that allows donors to easily get started with the donation process without leaving the site.
PROJECT TEAM
Orion Alden
CREATIVE DIRECTOR
Karla Harkness
Project Manager
Maggie Nugent
Content Director
Meet Side•Sea
A Site that Engages and Informs
Because the new CEDS website is primarily being used as a marketing and informational tool for parents of prospective students, it was incredibly important that the new website be highly engaging and informative. Integrating the playful CEDS branding into the site helped create a nice balance between the content and the user experience. The finished site successfully reflects CEDS values and commitment to children, while guiding the user through the information they needed in a fun, digestible way.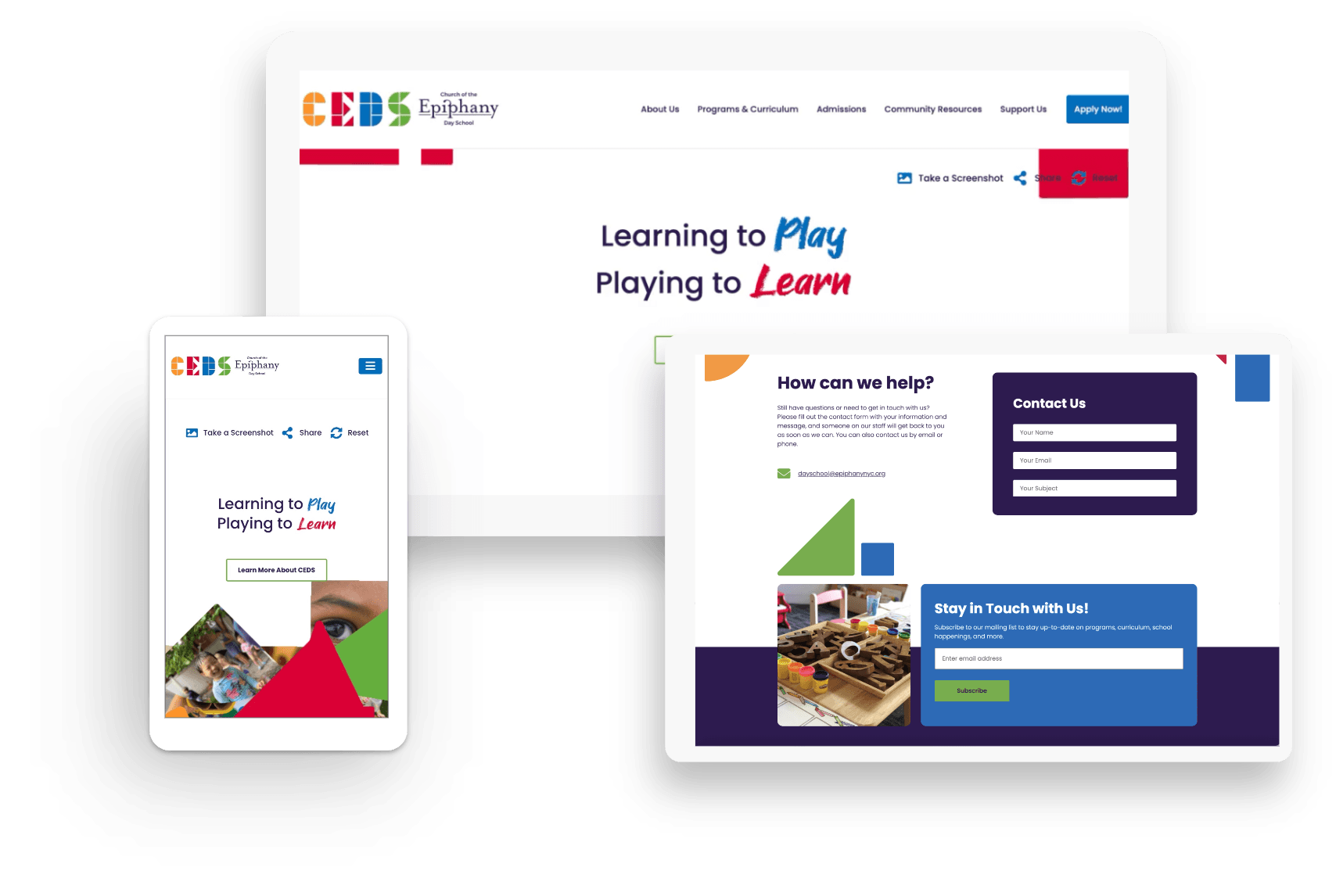 See how we can elevate the
voice of your brand.